Among musical professions conducting holds a special place for many reasons, and one of them is that the conductor must be talented not only musically, but also visually - he must be able to take in a huge amount of visual information and transmit it to the players via body language.
There are several noted cases of musicians being able to perform at a very high level despite being visually impaired, but when it comes to conducting it seems to be not the case. The complexity of an orchestral score is so high, that internalizing it with some other than visual means would be too slow and cumbersome, and handling the rehearsal situation with a normal orchestra would be almost impossible without visual contact with the players.
There are conductors who did not have much use of their eyes at an older age. It is told that the reason for Toscanini always conducting without score was, that because of his bad eyesight the score would have been useless in the rehearsal. I read somewhere that Toscanini had to rehearse the American premiere of Leningrad Symphony by Schostakovich page by page at the rehearsal, because everything was done in such a hurry that he had no time to spend with the score beforehand.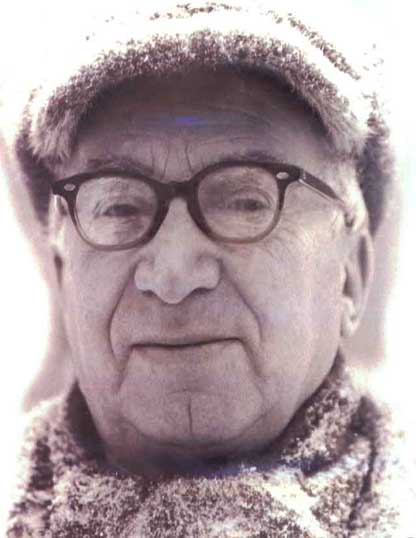 Another example was the great Russian conducting pedagogue Ilya Aleksandrovich Musin, who made his international breakthrough when he was around 90 years old. His eyesight had started to fail already at that age, so he resorted to conducting only works he knew very well by heart.
I would imagine poor eyesight would not make any difference to someone like Maestro Kurt Masur, who performs more than 200 orchestral works by heart. He has an additional benefit of his eyes looking slightly to different directions - the musician cannot be quite sure whether he is eyeing him or the guy at the next desk...
Here is a picture of my dear professor at the Sibelius Academy, Leif Segerstam as a young man. Notice how lean he is! And the eyeglasses! Well, I have heard that Leif has been using contact lenses about since they were invented! And these days he recommends them to all of his students too! He thinks that eyes are such a valuable means of communication, that nothing should come in between - not even the most delicate frames...
Here is a picture of Leif with contacts. Using contacts is not totally without problems anyway... Every musician in Finland knows the story of Leif coming to a rehearsal and then stopping it in the middle because he was feeling so nauseatic. The reason - he had 2 contact lenses in one eye and 3 in the other! I also have witnessed one of my colleagues losing one of his contact lenses in the middle of a difficult modern work during a conducting competition!
You can also lose your glasses, as I did during one concert at the Hot Springs Music Festival. I felt that my glasses had slipped too low and tried to lift them up in the middle of the piece with disastrous results. My glasses lifted themselves up in the air and I fortunately could catch them in mid-air. Now I have to warn you about certain kind of glasses: If you are a conductor, never buy glasses that have flexible arms - they will be impossible to put back with one hand! I especially warn you about the "Silhouette" brand which I have at the moment. The arms are not long enough to really grab your ear and they are so springy that they practically jump off your face at the slightest hint.
Anyway, I really don't think using glasses is such a big deal. Just look at this poor Austrian chap! Was he worse a conductor because he could not afford contact lenses? I don't think so!
Or take a look at the owl-size glasses of this New Yorker. This is absolutely what I recommend - the glasses are big enough so that he can see both the music and the players just by moving his eyes. He is not the most fashionable guy, though...
This British nobleman probably needs his glasses only for reading, so with the orchestra he resorts to old and trusted "half-moons"... I do not recommend this choice to younger conducting fellows - I guess you have to be a "sir" to look credible with them...
Finally, your eyesight affects so many factors in your conducting that can make a big difference. How well you see the score affects the height of your desk, which in turn affects how much space you will have in front of you to move your hands about! In good old Eastern conducting schools the students always conduct by heart at the lessons, and for this reason your conducting technique will be more free and relaxed without worrying about the desk or page turns. Just take a look at the Carlos Kleiber concert videos with Concertgebouw and imagine him using a desk - how different his conducting would have to be, with less space to use and constant turning of the pages!
There is a couple of "conducting secrets" to help when you really need the score badly but do not want to keep your desk too high. I heard both from Maestro Yuri Simonov this summer, and I am in the process of testing them right now. First is - make a photocopy of a miniature score so that you will have four pages over one spread. This will reduce your page turns by 50%! Second - and I know this will divide opinions - mark your score clearly and systematically with bright colours so that you will be able to see it from distance! When you have a colour code always there for each instrument group, you don't need to put your head into the score and read the small print. This way your posture will be better and the players will find it nicer to look at you. Remember, it is a visual profession!